Why I Love this Custom Keto Meal Plan
So, we did a thing. My husband and I joined the multitudes and started the Keto Diet five weeks ago. Why? Mainly to lose weight, but we are finding many other health benefits along the way! (More on that coming soon!) But my greatest challenge was creating a custom keto diet to fit our needs, our time and our likes–or dislikes.
Feeling Overwhelmed with the Keto Diet?
The Keto Diet can be time-consuming at first, right? The hardest part of starting the Keto diet was knowing what to eat. I started to research a couple of weeks before we started the diet and I didn't realize how much I had to learn. I saw all of these recipes–most of them for keto muffins and keto cakes and keto chaffles (keto cheese waffles) and keto desserts. Oh, boy! I hadn't been eating these things because they were fattening, and now I was going to get to indulge!
I started gathering ingredients and recipes and I was excited to get started. Once we started we really had fun! …For about three days. haha. Then I started putting in the basic grams of fats, proteins, and carbs into the CarbManager app, and WHOA! I realized we were eating way too much! That keto pizza and bread was using up most of my macros (macronutrients) portions in one meal!
Back to the drawing board. I went back online and stopped watching keto recipe videos and started watching experts talking about doing keto the healthy way. There's lots of information out there, but some of it is confusing and some of it contradicting. So many people were having great success, but which path should we follow?
Please note that this article contains affiliate links, and that means that I may earn a commission if you buy something. Opinions about the products are fully my own.
Learning What to Eat on the Keto Diet
I still had to figure out what my husband and I were going to eat for every meal and then balance them out so that we ate the right amount of carbohydrates, fats, and proteins for the day. That has been intense! I have been cooking every meal (which means doing a lot of dishes!) and packing my husband's lunches and let me tell you, I am out of practice! It has been years since my kids were young and I was preparing all the meals. Whew! I seriously couldn't be doing all of this if I were working away from home full-time.
To make it easy on the days I was too busy or too tired to find another recipe, I kept frozen burgers and frozen broccoli in my freezer as a go-to which was fine at first, but it can get old after a while.
Most of us don't have time to do all of that research on top of the food prep. That's a big reason why people quit Keto within the first few weeks. It feels overwhelming learning this new way of eating! I had so many questions like Which fruits and vegetables are low-carb? How much can I eat? How often is optimal to eat? Can I snack? What kind of drinks can I have? Wait, sugar substitutes can still cause an insulin response?! So which sugar substitutes are keto-friendly?
Make the Keto Diet Easy with a Custom Keto Meal Plan
That's why programs like Custom Keto Meal Plan are so wonderful! Look at all they provide! It's a stress-free way to do the keto diet because they do the work and plan for you.
The Custom Keto Meal Plan provides you with:
An eight-week meal plan created based on the expertise of certified nutritionists, personal trainers, and chefs.
Meals that have calorie and macronutrient content tailored to your specific situation and goals.
A nutrition plan with food variety to ensure you will get a wide range of nutrients and boost the likelihood of sticking to your diet.
Meals that are based on personal food preferences to make your diet enjoyable and help you stay on track with your plan.
Detailed recipes with step-by-step instructions to make meal preparation super simple (no prior cooking experience needed).
A downloadable shopping list each week that details every needed ingredient you will need in the upcoming seven days.
Options on how you can customize every meal even more to suit your taste buds.
It shows you what to eat every day to reach your goals in the fastest and most enjoyable way.
Doesn't that sound amazing? All the work, all the research, all the planning–it's ALL done for you!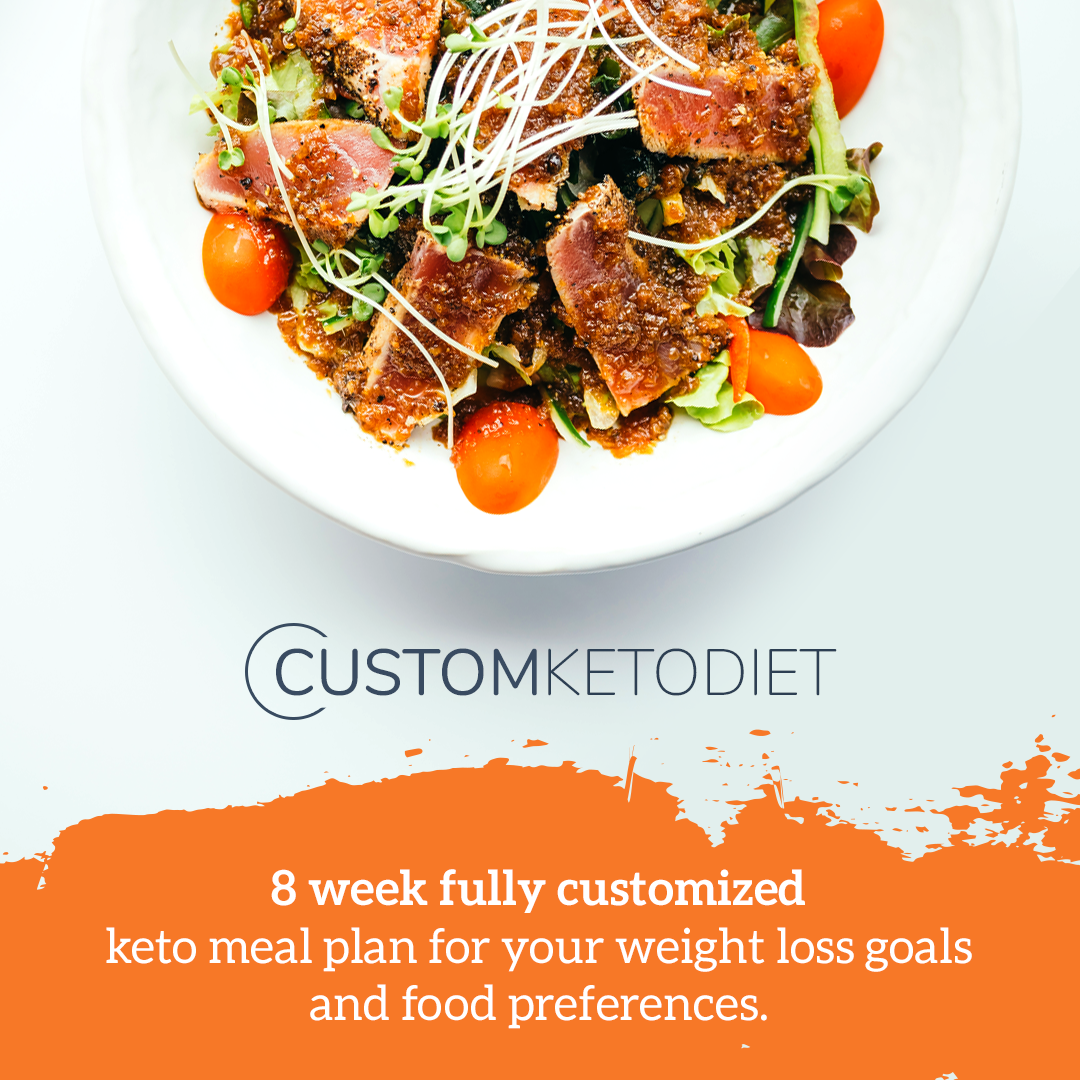 Perhaps the coolest part of this program is that it is customizable. You can put in foods that you don't want to eat and foods that you want to eat more of, and they will personalize the menu to you!!
Customer Comments
This is what a few of the other customers had to say:
As of today, I've lost 35 pounds, I have no hunger pangs and mentally I feel sharp as a pin. This is definitely going to become a 'way of life' for me as it's so easy to follow… All my meals are planned out for me and I even get a downloadable shopping list with all the ingredients I need for the weekly shop so it really is a doddle. Katy Thompson, UK
I'm 4 weeks into my custom keto diet plan and I've lost 14 pounds which I must say is pretty incredible, it's actually amazing watching my body transform into something I am actually proud of rather than something I have always tried to cover up. Jessica Grey, US
I've struggled with my weight my whole life and it's safe to say that I've tried a LOT of diets… The Keto diet is the only one I've managed to stick to and the weight is literally melting off my body. Unlike other diets where I am feeling hungry all day and food is constantly on my mind, the keto diet has completely eliminated this, I actually NEVER feel hungry with this way of eating! I would definitely recommend anyone struggling to lose weight to try these custom keto meal plans as they really have been a godsend for me. Gary Best, Canada
If you're feeling overwhelmed by the Keto diet, Custom Keto Diet might be just what you're looking for. You can get more information about it here.
You may also enjoy my articles: The Difference Between Clean, Lazy and Dirty Keto and Why I Drink Nourishing Herbal Infusions and You Should, Too

You'll like this Keto Sugar-free Electrolyte Drink Recipe.
---
---