How to Make Money Online
How to Make Money Online
So I've been fairly active online since I got my first computer in 2000, and I have watched as more and more people have joined the venture of making money online. As my husband and I approach "retirement age," I am very interested in creating an income that can sustain us throughout our "golden" years. Haha. We are not there, yet, but that's why I have researched and found multiple ways for us to make money without creating a "brick and mortar" store, as they call it.
I already mentioned a few ways of making money online in my article, How to Make Money for Retirement Income. There I mentioned multiple ways of making money which don't necessarily involve a computer. In this article, however, I'm focusing on 10 Legit Ways to Make Money Online.
Sell Your Handmade Items Online
This obviously is not completely an online business as you may be spending a good deal of time creating your products. You may already have items to sell but wonder where it's best to sell them. Thankfully, you have a lot of options!
eBay   .

Etsy   .

Amazon Handmade   (Lots of Traffic)
Facebook Marketplace   (Great for selling large items as well as small. Since you meet locally, you don't have to worry about shipping charges.)
But What Do I Sell?
If you don't already have a craft, you can always learn the skills to pursue one! It's not too late! To get ideas, I recommend looking at what is selling already in your area on Facebook Marketplace. Then take a look on Etsy. You will be amazed at all the unique items that people are selling. Look at the reviews and comments on Etsy, too, to get an idea of how many of a particular item is being sold.
Sell Used Items Online
Downsizing? Love yard sales and thrift stores? You can sell your items online. I've listed some websites for you to sell on below. Facebook Marketplace and Craigslist are primarily for selling locally. If you do choose to sell locally, consider meeting in a public place like a mall parking lot to make your product/money exchange for safety and convenience.
Also, each of the selling sites has specific guidelines as to what you can and cannot sell. Be sure to check them out if you have any question about an item you want to sell. To get ideas for what items you could sell, browse through the sites and see what other people are selling. I encourage you to start with selling things around your house first. Check a couple of the sites listed below and see how much similar items are selling for to see if it's worth your time and effort selling. Remember to subtract the seller fees from to figure your potential profit. You can start out slowly if this is new for you. And you can try different platforms for selling to see which works best for you and your products. Once you have success selling your own household items, gently used clothing and books online, you may want to try Retail Arbitrage. See below for details.
Make Money Blogging
Blogging basically offers two ways of making money:  affiliate marketing and selling your own physical/digital products or services. While you may receive other benefits, like free products to review or comped travel, in the end, it is about selling. You may argue with me, but tell me how anyone makes money without selling something.
If someone had told me that I had to sell to make money on a blog, I wouldn't have even looked at the idea. But blogs do so much more than selling, and that's what I like about them. When I read a blogger's post, I get to find out their opinion, experience, and tips about a product or service which helps me decide whether to spend my money there or not. Blogs provide valuable information to me as a consumer, so I, in turn, like to buy through their links to support them. And you can do the same! You can provide valuable information–or even entertainment–and build a rapport with your audience. Offer them great products and services that solve a problem in their life and let them choose the links your share.
If blogging seems like something you'd like to do, I recommend this 5-Day Free Start a Money Making Blog Email Course. That's how I started. Check out my article about the FREE blog course here.
I also explain the basics for starting a blog in my article, How to Start a Blog here.  
Teach a Class or Tutor Online
If you have high-speed internet, you can teach English as a Second Language or other subjects online to children and adults here in the U.S. or from around the world. Keep in mind that if you are teaching children on the other side of the world, you will likely need to do your teaching at night. If you're a night owl, that will work great for you. If not, be sure to work with people in a similar time zone as yourself. Here are a few online teaching platforms to get you started.
Sell New Items Online – Retail Arbitrage (Or Buy Low, Sell High)
I already covered four great ways to make money online, but there's more!  If you want a business of your own and want to work when you want to, then consider Retail Arbitrage along with the closely related Online Arbitrage. Don't let the word "arbitrage" scare you off. Or maybe it fascinates you–sounds like sabotage or espionage. Haha! Arbitrage IS sort of sneaky. You shop–either locally or online–and find products that are on clearance or discounted. You then find out if those specific items are selling more expensively online on such platforms as Amazon or eBay. If you could get a decent profit reselling them online, then you buy the items and list them for sale.
Making Money with Amazon FBA
Now I have made this sound very simple, and the concept IS pretty simple. However, there's a little more to it than that. If you don't want your living room or garage to fill up with stuff for sale, you may want to choose the popular way to sell retail arbitrage, and that is to sign up as an Amazon FBA seller. FBA means "Fulfillment By Amazon". Following Amazon's guidelines, you can then send your purchased clearance items to an Amazon fulfillment center, list the products on your Amazon seller account and then wait. Amazon will sell the item, take care of customer service and let you know when the item sells.
Again, I have made it sound super easy. And it IS easy. And it's not. You still need to keep up with pricing and price competition, inventory, and handle any problems either a customer or Amazon might throw your way. It isn't completely hands-off, but you can work it as a side gig if you want to. Of course, how much time you put into finding sellable products and listing them, will ultimately determine how much money you will make down the road.
Outsource the Small Stuff
As your business grows, you can also outsource a lot of the work. Online sites such as Upwork and Fiverr help you connect with people who work for reasonable wages. They can handle finding products online, listing products, customer service, bookkeeping, and more. There are also small companies that can receive your purchased products, prepare them and send them off to Amazon Fulfillment Centers. Once your business is going, you will be able to free up a lot of your time this way.
You can sell most retail arbitrage items at any of the sites I listed in the "Sell Used Items Online" section, too. It isn't limited to selling on Amazon. Amazon is great because they have millions of customers already, but they also have high fees and lots of rules and regulations.
Make Money with a Youtube Channel and Affiliate Marketing
Yes, you, too, could have a thriving Youtube channel to bring in extra money. You can use your channel to provide valuable information or entertainment to the viewers and then promote products and websites. Sign up for affiliate programs and then, when a viewer clicks on your link and makes a purchase, you will receive a commission.
It's going to be easiest to promote products which you're familiar with. Shareasale has numerous companies you can apply for and there are multiple similar sites that manage the affiliate programs for online retailers and service providers, like Clickbank and CJ Affiliates. How it works is you apply to the hosting company and then you can ask to join campaigns that go along with your niche.
You can have lots of approaches to your videos:
Explain the pros and cons of an item.

Compare two or more products or services and provide links for both.

Purchase a product and show how to use it.

Mention a useful product in a video about a similar subject and provide the link to it.
Make Money as a Freelancer
Just as you can hire someone to help you with your online business–you could actually be a person who is hired as a freelancer. Take a look at sites like Upwork, Fiverr, and Creative Market and see what categories you might be able to offer your skills for. Everything from photography, mini video ads, copywriting, editing and proofreading, data entry, graphic design, social media, and more are needed by online businesses.
Learn Skills to Become a FreeLancer
If you want to learn skills needed to become a freelancer or if you want to brush up on the skills you already have, Fiverr has some great inexpensive courses just for that. Learn more about Fiverr Online Courses here.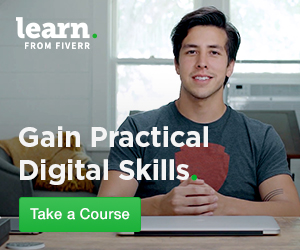 Sell Photos Online
Bloggers, web designers, marketers, online retailers and freelancers are all looking for unique photos to use on their sites. Sites like Canva and Shutterstock let you upload your photos to their sites and offer them for sale.
Make Money Online as a Virtual Assistant
Many office duties do not have to be performed right in the office these days and that is where a Virtual Assistant comes in. Some of the duties of a Virtual Assistant may include:
Phone work: Answering and directing calls, callbacks, scheduling appointments

Email: Checking and answering emails

Writing and Maintaining Records

Managing Social Media

Medical Transcription

Bookkeeping, Payroll, Billing

Data Entry

Web Design

Proofreading and Editing

Much more!
Two highly rated sites for posting your available services is Upwork and Fiverr. Check them out to get ideas.
Want to know more ways of making money on the side?
Check out my article, How to Make Money for Retirement Income where I explore lots of Side-hustle businesses.
Have Questions?
If you have questions or comments about these methods I've explained for how to make money online, please leave them in the comments below. Have more ideas? I'd love to hear them or hear how you are making money online!
---
---